---
We are Health Coaches -- Certified by Take Shape For Life, in partnership with the McDonald Center for Obesity Prevention and Education at the Villanova University College of Nursing.
My name is Michael McCright -- Holistic Health Practitioner, Certified Health Coach and Certified Massage Therapist.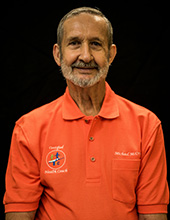 I'm Michael McCright owner of the BodyMind Connection and I provide Health Alternatives for an Enhanced Lifestyle.
I do so through Posture Analysis, Massage, and Nutritional Coaching. I coach people, on how to lose weight effectively, keep it off, and move from surviving to thriving.
---
"Together (with God) i Can"
Know that the only thing that you can really change in this world is YOU. Bring everything back to (i) and take responsibility. That is the first step.
We promote using the small (i) to suggest humility and not a capital (I) which can suggest or relate to EGO.
The philosophy begins when we start to acknowledge the (Pride and Greed) we live with, in our lives. We begin by acknowledging that we try to accomplish things, by ourselves, with no one else's help or by taking advantage of others. We need to know where we are at, a starting point, before we can plan a destination. (Our old ways could be called Living by Force) (Competition)
---
"Slight Edge"
Slight Edge is that thin line that separates the invisible from the visible. It is not big, bold and brash. It is so far from perfection that you would hardly recognize it as change at all. However, for life to change, we must change - and to move from where we are to where we want to go will require growth.
Growth does not occur overnight.
It is a process, a journey, sometimes with no ultimate destination. You can have a goal, such as Optimal Health, which has no end, no destination, and continue in that direction forever. In other words, we continue the journey and continue to improve, getting better and better over time.